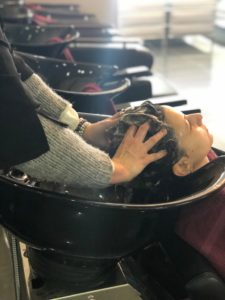 The anti-residue scalp treatment consists of a series of shampoo, massage and application of essential oil that will be used to rid your hair and scalp of all accumulated build-ups and residues.  These residues come from acrylate, plastic, wax, petroleum derivatives and impurities that accumulated on your scalp during years.
These kinds of residues accumulate because many of the hair products we use are made from petroleum derivatives (plastics) and during washes; these residues are not always eliminated properly, either because the shampoo that is used does not have the capacity or simply because the shampoo itself contains petroleum derivatives.
Designed to rid your scalp and hair of all deposits and impurities, this treatment is essential in order to start any type of more specific treatment. If you want to have healthy hair, I suggest you do this scalp and hair treatment at least once or twice per year.  It's like a kind of exfoliation for the scalp, we eliminate what should not be on your scalp in the first place, but we also make sure to balance and regulate the pH of your scalp afterward.  This care is especially recommended for all new clients before using any of our home care products.
It prepares your scalp to receive nutrients from your care program and greatly enhances the effectiveness of your program.
---