Muladhara: Root chakra
I AM Simplicity, Purity, Happiness
Grounding yourself is so important.
Do you take the time to plant both feet on the ground and live in the present moment, in the now?
The first chakra represents your foundation, your relationships, the material world around you, your physical and financial health. It is a very important chakra on which the other chakra will build afterwards.
Realize that you are alive, that you are here on planet Earth and connect with the visible and invisible world around you.
Be dazzled by the wonders of nature, bring out the inner child, discover the world around each and every day.
Here are 2 mantras that you can recite in order to connect with your root chakra.
Repeat 10 times, learn it by heart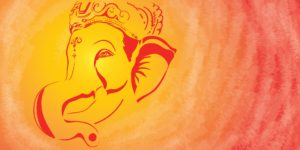 Sanskrit Mantra: " Om Shri Ganeshâya Namaha "
I AM Rich, I have everything I need
Choose one or more of these essential oils when you recite the mantra. The essential oils will help you work deeper into your pratice. I use them when I practice Yoga, when I am meditating, when I need some quiet time.
You can also use gemstones:
– Snowflake Obsidian – Bloodstone