Does your hair tend to become dry, tangle easily, or worse they make knots hard to break?
My daughter Sierra has long and pretty curly hair. Unfortunately, they are very often tangled and dry. This is often the case with curly hair, because the scales of the curly hair shaft remain slightly open and this type of hair requires more hydration. There are several brands of hair detangler spray available in stores, but I refuse to buy products that contain petroleum derivatives, synthetic fragrances, preservatives, artificial colors, parabens, methylisothiazolinone, etc …
The recipe I have here for you is super easy to make and contains no toxic ingredients. It will make it easier to untangle the hair while moisturizing it at the same time.  Win-Win, don't look any further.
Did you know that your hair are the most fragile when they are wet?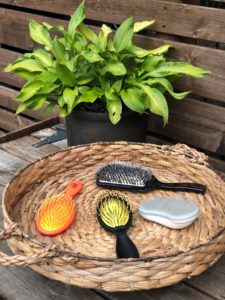 We must be super gentle when we take care of our hair while they are wet. To avoid breaking them unnecessarily, spray lightly the mixture over your hair before detangling your hair and, if possible, use a brush specifically designed for this task.
At home, I use a " Wet " brush or a " detangle teezer " These brushes were designed for this and they are gentle on your hair.
Brush gently. Start from the tip and slowly go higher at the the root.  Avoid rubbing your hair with the towel.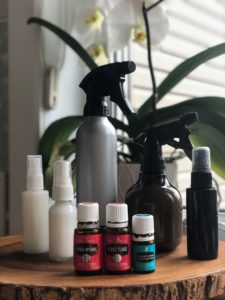 RECipe: Hair detangler spray:
1/2 cup of a natural hair conditioner
2 cups of distilled water
1 tsp of aloe vera gel (optional)
10 + drops of the essential oils of your choice. I am giving you a few ideas below
Spray bottle
NB: This recipe gives a big quantity of detangler.  If you wish, you can cut it in half.
We love this spray so much, we use it also at the pool and the beach.
it's our mermaid spray!!!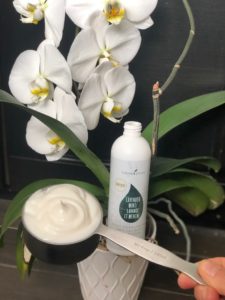 Steps:
1: Chose 1/2 cup of your favorite natural conditioner.
At home, we mainly use Young Living products. First, because I love their products, but also because I trust them 200%.  I have full confidence that this company uses only top quality natural ingredients.  They are safe for my family as well as for the environment.
In addition, this saves me so much time.  I buy online, so I can get the products that I need without having to leave my house.  Also, I know that their products are made without harsh and toxic chemicals.  It also save me time, because I don't have to spend times to read the label when I'm at the market.
Chose how you will spend your money.  Make you money talké   
For my recipe today, I used the Lavender and Mint conditioner, but sometimes I use the Copaiba Vanilla, but any conditioner will do the trick.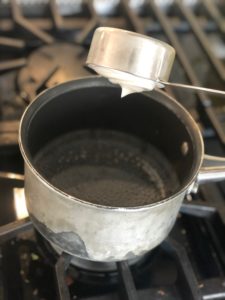 2: Heat the distilled water over low heat. The water should shudder, but you don't want it to boil.
Then mix the conditioner and hot water together until a homogeneous liquid is obtained. I use a whisk.  You want the conditioner to blend well with the water and avoid splitting.
Then you can add the aloe gel if you wish. It is an excellent moisturizer for your hair.
3: essential oils
Now, you can let the mix cool down a little before you add the essential oils.  Add between 10 and 15 drops of the EO of your choice.  Be creative.  Here are some suggestions:
For Normal hair: Geranium, Sandalwood, Lavender, Petit Grain
For Oily hair: Tea Tree (Melaleuca alternifolia), Clary sage, Lemon, Cedarwood, Peppermint 
For Dry Hair: Ylang Ylang, Chamomile, Myrrh, Palmarosa
If you have Rose essential oil, I highly suggest that you add 1 drop of it.
I chose this blend of essential oils Ylang Ylang (6), Myrrh (6) and sandalwood (3).
How can you purchase Young Living also, become a member – IT'S FREE 
4: Mix all ingredients together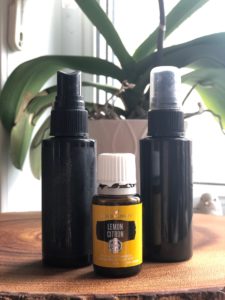 Pour the mixture into the spray bottles.
You can reuse an old bottle that you already have at home. In this photo, you can see savvy minerals misting spray bottles.  I removed the labels and now I use them again. I use 2-3 drops of lemon essential oil to remove any traces of glues or other forms of additives.
With the recipe above, I was able to make several small bottles. I am now offering them as gift or I can bring them in my carry-on when I travel.
I also use an aluminum bottle or glass bottle that you can find at a dollar store or on amazon.
5: Spray directly on dry and tangled hair. Use it first thing in the morning. Spray on the tip of the hair and brush gently.  You can also use on wet hair and use it as a leave-in conditioner.
—————————————————————————————————————————————————
Here's a version 2.0 – Add Marshmallow root 
Here is a small variation that you can try if you want more moisturizing and smoothing effect.
Before adding the conditioners to water, first add 2 tbsp. of marshmallow root to 2 1/2 or 3 cups hot water and simmer for 25-30 minutes or longer. Drain with cotton cheese and then use this water to make the detangler as usual.
Why marshmallow root?
It is one of the best natural detanglers that exists

Rich in mucilages, this creates a viscous substance that provides a slippery effect.

Softens hair naturally

Nourishing and sheathing for the hair strands.

Can promote the volume for the hair.

When marshmallow is applied to the scalp, this will have moisturizing, soothing, soothing and anti-dandruff properties.

Can help reduce itching
Did you know that the soft candy found its name from this root plant? Originally the marshmallow was made from this plant.?
I hope you enjoyed this article and recipe.  Please let me know if you would like to learn about a specific topic.  I love to hear from you.
Have a great day
Isabelle – Votre Amie Essentielle