La recette sera traduite sous peu.
Merci de votre patience
What's in your soap?  Do you know?
The easiest way to know what's in your soap is to make it yourself.
It is also a great activity to do with the kids, with friends and even alone.
Wanna try?
Let me give you some ideas
Short cut – Melt & pour soap base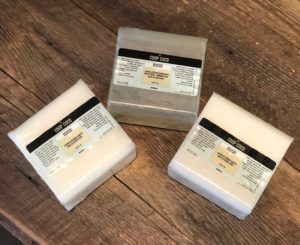 I personnaly chose to buy good quality soap base instead of making my soap from scratch.  It is faster and easier to do. I don't have to use caustic soda or lie. The soap base has already been transformed so you don't need to saponify the fat in order to make the soap.  I only need to melt the base into a double boiler and then seasonned, flavor and color my soap base in order to make it my own!
Use an unscented and uncolored soap base.  You can buy those soap melt and pour blend from most craft store and online. Please make sure to read the list of ingredients.  Sometimes, they can be as toxics as the one you are trying to avoid.   You don't want to use soap base that contain sodium lauryl sulfate, sodium laureth sulfate, fragrance, PEG, Dimethicone in it.
Organic Oils Clear Glycerin Soap
Step 1- Melt your base in a double boiler
One of my favorite thing to do is to melt my soap with a pouch of tea in it.  I find its the perfect way to incorporate the benefit of tea into your soap.  It will also allow the scent to get into your soap. Try using Green Tea, Black Chai Tea, Chamomile herbal tea…
While the soap base is melting, you can also add other ingredients to improve the soap base.  I usually add 1-2 tbsp and it doesn't prevent the soap from hardeing.   I like to add Cocoa butter or Honey or Coconut oil or Shea butter.
There are no rules here, just be creative!!!
Make sure that you don't bring the soap to a boil, you just want to melt it.   Once the soap base is well melted, you can season it.
step 2 – Seasonning the soap
At this time, you will decide what kind of soap you want, what benefit are you looking for?
Do you have a theme? Is it for Holiday?  Detox? Cellulite?
There are plenty of things that you can possibly use in your kitchen to color, to add a scent or to texture your soap.  You can use herbs, spices, citrus rind, used coffee grounds, flower buds,  poppy seeds, grinded oats, corn meal, heamp seed, salt, sugar, grinded nuts, activated charcoal, ESSENTIAL OILS
Lets have fun and create original soaps
Here are a few ideas…
Calming: Lavender with grounded oatmeal
Cellulite: Ground coffee and Grapefruit essential oil
Skin deep: Calendula, Helichrysum, Frankicense
Uplifting: Poppy seeds, lemon zeste and citrus essential oils
Detox: Bentonite clay, Tea tree
Holiday: Crushed candy cane (into powder or sugar), peppermint essential oil
Forest: spirilina, tree essential oil and use a tree branch at the base of the mold for decoration
Antixoydant: Green tea, lime rinds,
Winter wonderland: cacao, peppermint essential oil
After ski: chai tea, cinnamon and PanAway essential oil
Morning glory: Coffee and vanilla beans
Twinkle Star: Anise star
Kids perfect: Decorate with multi-color cake sprinkles
Here's are some ideas if you want to add color to you soap – Naturally
BROWN:

Used ground Coffee or Cacao powder

GREEN-BLUE:

You can use spirulina

GREEN:

Chlorophyl powder
YELLOW: Turmeric or curry

BROWNING-PINK:

Beets

ORANGE:

Paprika, Orange zeste
– You can also use food coloring gel, which can be found in any good food store.
I always add essential oils at the end, just before pouring into the mold
Step 4 – For Molding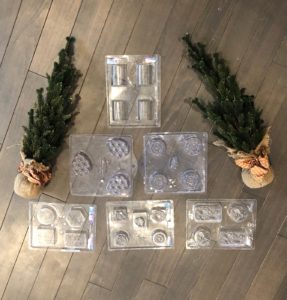 Once your blend recipe is made, it is time to pour it into a mold so you can let the soap solidify.  Mix it well just before pouring, especially if you have exfoliant inside it.  You want it to be well diffuse so you have them everywhere in your soap.
I have all kind of shape molding because I like to have differents shapes of soaps.  Here are a few places where you can purchase them :
You can also use ice tray, chocolate mold, cake mold or bread pan.
You can add a few decoration at the bottom of the mold before you pour in the soap base.  Use decoration such as cedar branches, fir, flower buds, Loofah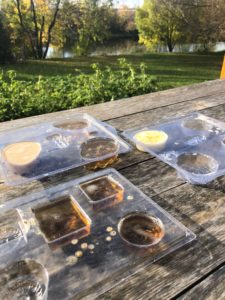 Leave the soaps in the mold until they had fully harden.
When ready, remove it from the mold and wrap them up. I personnaly wrap them into wax paper until ready to use.
You can also add some cardboard paper, rubbans, cords and offer them as a gift.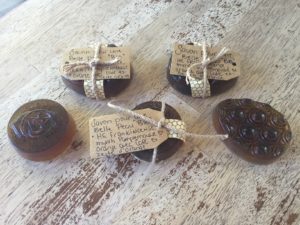 I hope you enjoyed this article and that it will inspire you.
Have fun making soap and share with others. Its a great gift for hostess during this Holiday period.
If you get good ideas, please share with me.  You can find me on instagram and facebook.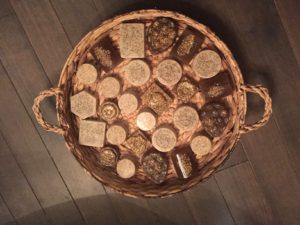 Have a wonderful Holiday period.
Be kind and Smile!
Isabelle – Votre Amie Essentielle