Recette en français à suivre sous peu… 😉
My stress level is pretty high lately.
I have accepted to many responsibilities, projects and with my own life chores, I sometimes feel overwhelm and it feels like I am always running out of time.  Do you relate to what I am saying?  Is it your reality too?
My priority number one is and always will be my family. And even if I have a busy schedule, We still need to eat.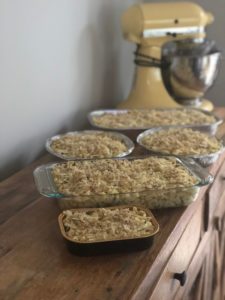 I had to find a solution to make sure we continue eating healthy even with that busy schedule. 
My solution? When I am preparing a meal, I always double or triple the recipe.  It doesn't take too much extra time to prepare 2-3-4 extra meal, but it definetly save you a lot of time in the future.
Mac and cheese can easily be frozen.
Now you have meal option for the future when you are running late, missing time or don't feel like cooking. You have a homemade healthy and filling dish ready and handy for  when this time comes….AND IT WILL COME
The only thing you will need to do is take out the mac and cheese out of the freezer 30 minutes before, bake it at 375 for 30-45 minutes.
Almost everybody loves mac and cheese. It's an easy choice to make everyone happy.
For me, it's confort food for the soul.
Today, I created a variation of the original mac and cheese recipe so I could add nutritive ingredients to it and have a healthier version.
This way, I feel less guilty when I eat it.
Ingredients:
3 tbsp Butter

3 tbsp Flour
½ tsp Dry mustard
¼ tsp Garlic powder
¼ Onion Powder
¼ Nutmeg
Salt and Pepper to taste
1 cup Chicken Broth
¾ cup Milk 2%
¼ cup Cream 15%
2 ⅕ cup Grated Cheddar cheese
2 ½ cup Grated Old cheddar cheese
1 cup Grated emmental cheese
1 full bunch of Kale (the leaves only)  Keep the stems for jucing 😉
1 full cauliflower head and stems (fully grated)
3 organic, pasture raise chicken breast
1 ½ tbsp of Chia seed
1 tbsp Hemp seed (grinded)
½ Olive bread baguette (grinded for krispy topping)
Macaroni: 375 g of macaroni (or Quinoa macaroni)
Preparation:
– Bring to a boil a pot of salty water.  When it is boiling, you can add the macaroni.  Cook for 58-10 minutes, drain and reserve.
– Pre-heat the oven at 375 degrees.
– Rinse the chicken breast, pat dry with a paper towel, seasoned with salt and pepper, place on a cooking sheet covered with parchemin paper.  Cook at 375 for 25-30 minutes. Remove from the oven, let cool down. Cut into little ½ inch cubes.  Reserve for later use.
Now it's time to make the Roux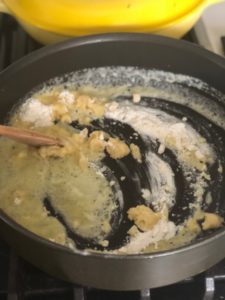 Roux is the base for most white sauce. 
It is made by cooking equal parts of fat and flour until you reach the golden color that you desire.
In a large sauce pan, melt the butter.  When its well melted, add the flour and mix together for a minute.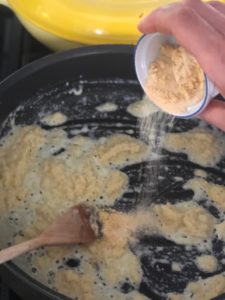 Then add the spices while mixing continuously.
You will get a thick paste.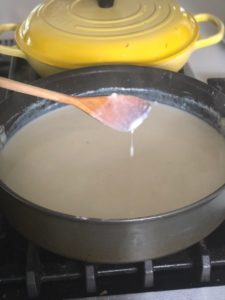 Now add the chicken broth slowly while mixing consistently.
Bring it to a boil. 
Add the milk gradually and them the cream.
You will start to see your sauce thickening and you will get a nice consistency.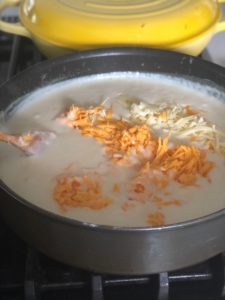 Reduce the heat to low
Add the cheese to your sauce 1/2 cup at a time.
Stir until well melted and incorporated.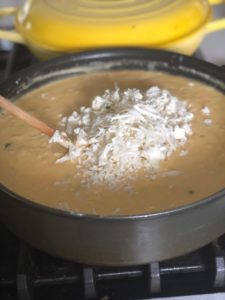 Now add the grated cauliflowers
I used a box grater to get small pieces of cauliflowers.
You can also pulse the cauliflower head in the food processor.
The final result will be rice grain like texture.
Then add the chopped Kale leaves
Mix well into the sauce.
At this time, I turn off the heat.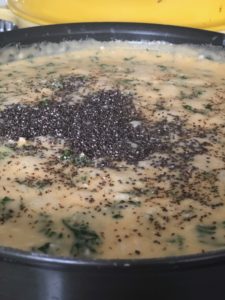 Ch-Ch-Chi-Chia
Add Chia seeds
They are nutrient-dense and pcked with lots of energy-boosting power.
Did you know that chia means « STRENGTH » in mayan?
Rich in fibers, Omega-3 and Omega-6 Fatty acids, Proteins, Minerals such as magnesium, calcium, potassium, iron, sulphur, iodine… and Vitamins (A, B, C, D and E….) and antioxydants.
You can also add hemp seed (optional)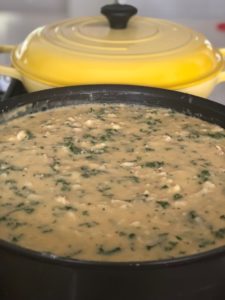 Add the chicken
Mix all ingredients well together.
Adjust the seasoning with salt and pepper.
Add the pasta and mix well together.
Place your Mac and cheese into your baking dish.
Sprinkle with the remaining old cheddar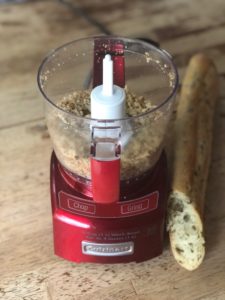 I like to add some crunch to this recipe.
I make bread crumbs with some Chives and Olives baquette that I buy at the market.
I use the food processor to make the bread crumbs,
Then you only need to sprinkle the bread crumbs on top of your mac and cheese.
I use the rest of the baguette to serve it with the meal later.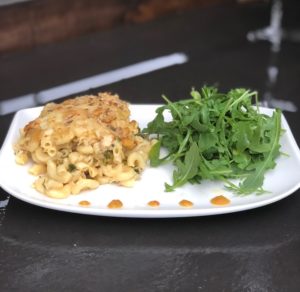 Bake for 5 – 10 minutes until the cheese and bread crumbs have a nice golden color.
Serve it with a green salad!
I also added some spicy bajan sauce because we all need to spice up our life!
If you freeze it, you will have to bake it for about 45 minutes.  I usually pull it out of the freezer 30-45 minutes before needed to it start to thaw out a little bit..
Let me know if you tried it and if you liked it!
I am pretty sure we could add plenty of other healthy seeds into it…. Share with me if you tried something interesting.
Bon Appétit
Isabelle Votre Amie Essentielle